Welcome to DELIGHTFUL DUNEDIN, FLORIDA

So you are thinking of visiting Dunedin... First time here?
Learn how to pronounce it correctly and you will fit in just like a local. Dunedin (pronounced DONE-EE-DIN) is a small town featuring big city amenities. Any given day you will find locals and tourists alike strolling downtown enjoying a homemade ice cream cone, shopping in our unique stores or sitting under a shade tree at one of our many parks watching the day go by.

From the moment you first enter Dunedin you will feel at home. There is an indescribable sense of comfort, quaintness and charm in our delightful Dunedin. Don't let this convince you that we are a sleepy Southern town though... Dunedin, Florida offers some of the best dining in Tampa bay, world class major league baseball, art and culture, and even the #1 Beach in America! All of this with a touch of Southern charm.
The city of Dunedin, Florida is the Home of Honeymoon Island, the #1 state park in the Florida. The Island boasts clear emerald green waters with baby powder like sandy beaches on the Gulf of Mexico. For the avid biker or walker there are miles of nature trails through the island just waiting to be explored. Honeymoon Island and Caladesi Island, its' neighbor, are a step back in time into a world of old Florida beaches before condos and hotels were developed. Both these islands are all natural and unspoiled by any development.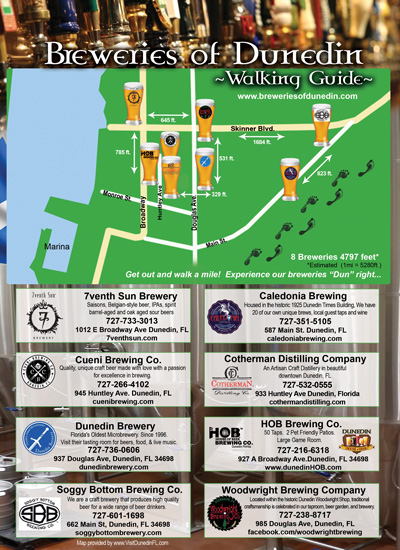 Tampa Bay, especially Dunedin, is the home to a huge variety of craft breweries. Currently in Dunedin, we have 8 craft brewers all in a mere mile of each other. This offers the beer enthusiast a great opportunity to walk the "pub crawl" and experience so many different beers and even sample local spirits at a local distillory. Dunedin is also the home to the oldest microbrewery in Florida, Dunedin Brewery. Each brewery is unique in design and many offer nightly live entertainment. We even have a map to guide on your brew adventure! Download by clicking on the map to the right.

Dunedin is also home to the Toronto Blue Jays for spring training and for the Dunedin Blue Jays year round. Come to our stadium and enjoy a major or minor league game complete with a hot dog and a foam finger.
Dunedin has so much to offer but if you can't find it here you are minutes to major cities such as Clearwater, Tampa and St. Petersburg.
Come spend a day, a week, a lifetime and discover truly delightful Dunedin Florida is in your heart.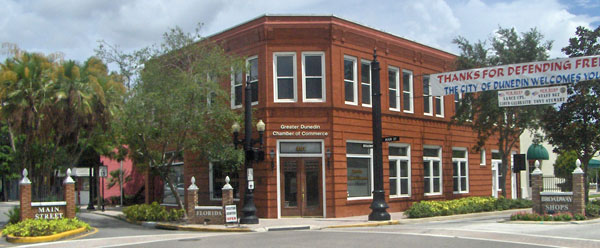 Dunedin Chamber Of Commerce and Visitor Center

Let's Get Social Dunedin...